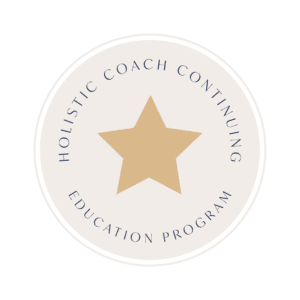 Holistic Coach Continuing Education Program
Program Schedule:
Lesson 1: Updated Core Competency Model 2019
Someone comes consistently late to coaching
Lesson 2: Demonstrates Ethical Practice (CC1)
Someone asks for your advice
Lesson 3: Embodies a Coaching Mindset (CC2)
Someone keeps saying I don't know
Lesson 4: Establishes and Maintains Agreement (CC3)
Someone has a hard time setting agreements
Lesson 5: Cultivates Trust and Safety (CC4)
Someone can't afford the services anymore
Lesson 6: Maintains Presence (CC5)
Someone has feedback for you
Lesson 7: Listens Actively (CC6)
Someone comes with a strong emotion to coaching
Lesson 8: Evokes Awareness (CC7)
Someone had a death in the family
Lesson 9: Facilitates Client Growth (CC8)
Someone wants to barter with you
Lesson 10: Coachability
Someone needs a higher level of care
Lesson 11: Checking For Progress
Someone wants a refund
Lesson 12: In Between Sessions
Someone is getting close to completion (how to bring up a resign)
Organization Info:
Holistic Coach Training Institute
6206 Sudbury Ave
Jacksonville, FL 32210
info@holisticcoachtraininginstitute.com
https://holisticcoachtraininginstitute.com/
Phone: 904.469.6009
Organization Description: 
The Holistic Coach Training Institute's mission is to empower professionals to become credentialed coaches so that they can live their highest potential while being of service aligned with their higher purpose. Holistic Coaching empowers "the whole person" to reach their full potential in all areas of their life encompassing the mental, emotional, physical, and spiritual levels. At the Holistic Coach Training Institute, our commitment is to provide you with online coach-specific training that will support you in developing effective coaching skills so that you can obtain an ICF coaching credential and establish a successful coaching business. The Holistic Coach Certification Program is officially approved as an accredited ICF (International Coaching Federation) ACSTH program. This designation highlights the credibility of our program and graduates within the coaching profession. The Holistic Coach Certification Program includes online, self-paced weekly video lessons with worksheets, weekly live coaching practice with a partner, and live weekly zoom trainings with mentorship. It's set up to really help develop professional coaching skills that are put into practice. The program goes beyond knowledge and theory into the practical and experiential space so that everyone can really grow and evolve personally and professionally over the six months together. A message from our President and Lead Instructor regarding our approach: "Holistic Coach Training Institute sees you as whole, complete and resourceful right here, right now and believe you fully capable of coming up with your own creative solutions while being supported by the coaching partnership. We experience you as the authority in your own life and enjoy collaborating in a co-creative process that supports you in honing in on the beliefs, values and strengths that enhance your potential both personally and professionally." -Beverly Sartain, PCC. Reach out to us today if you are interested in signing up or learning more.
Contact Information: 
Beverly Sartain
info@holisticcoachtraininginstitute.com
Phone: (904) 469-6009
Program Description:
Comprehensive monthly Holistic Coach Continuing Education Program that sets you up to earn all of the necessary CCE units needed for your ICF credential renewal. Strengthen professional-level coaching skills by training on the updated ICF core competency model and receiving coaching supervision around real-life coaching experiences. Consistently works towards your CCE units by attending affordable monthly classes. Stay connected to a supportive community as work towards coaching mastery.
Program Delivery Method:
Blended Learning (BL) with 2 hours of Synchronous Learning and .5 hours of Asynchronous Learning for a total of 2.5 hours of Blended Learning.
Program delivered in English.
Perfect for ICF credentialed Coaches who need to earn CCE hours and professionals working towards credentialing.
Learning objectives include:
Earn necessary CCE hours for credential renewal

Strengthen professional level coaching skills by training on the Updated ICF Core Competency Model
Receive Coaching Supervision around real-life coaching experiences
Requirements students must meet to receive a certificate of completion:
Each month, students must watch the video, complete the worksheet, and attend the two hour live class. To receive their certificate, they must check off assignments in the learning portal. The learning portal will provide a certificate of completion. Print out your certificate of completions so that you have a copy should you need it.
How student attendance is monitored:
Instructor keeps an attendance log and learning portal will keep track of certificate of completion.
Location(s) and date(s) the training will be delivered:
Monthly class that takes place the 3rd Saturday of each month from 4-6pm EST.
Classes delivered via Zoom
All Training Materials delivered via learning portal at https://members.holisticcoachtraininginstitute.com/login/
Main Instructor:
Beverly Sartain, MA, CADCII, PCC 
Beverly Sartain is the President of the Holistic Coach Training Institute, where she trains aspiring coaches on coaching skills and business set-up. The Holistic Coach Certification Program is an ICF ACSTH accredited program that focuses on a holistic approach to coaching. We see Clients as whole, complete and resourceful to create creative solutions to their challenges and issues. Additionally, Beverly provides individual and group coaching through her brand, Recovery Life Management. She received her B.S. from the University of Florida and an M.A. from the University of Santa Monica. During her ten-year career in nonprofits, she managed and developed domestic violence and co-occurring residential programs. Beverly is a Certified Alcohol and Drug Counselor. She has her PCC (Professional Coach Credential) from the ICF. Beverly enjoys helping professionals empower themselves around their skill set and online coaching business. She currently resides in Jacksonville, Florida with her husband Richard and their 4 rescue dogs. She can be contacted at info@holisticcoachtraininginstitute.com or bevsartain@recoverylifemanagement.com.
Substitute Instructor:
Lianne MacGregor MA MEd ACC
My name is Lianne MacGregor. I'm an ICF-certified life coach based in Chapel Hill, North Carolina and Ottawa, Canada. 
I began coaching five years ago when I became acutely aware that my life's journey was leading me in this direction. The focus of my practice is the work of recovering our lives from addiction, loss, discouragement, shame, grief, unresolved trauma and any number of obstacles that prevent us from living the lives we were created to live.
As a coach I'm able to draw on my experience as a person in long-term recovery from substance misuse as well as my educational and employment background as a counselor, educator, addiction treatment specialist, and pastoral minister.
Coaching allows me to meet with people at a specific moment in their lives and accompany them to a place that's a true reflection of their own competence, courage, and creativity. It's a process I'm profoundly honored to be a part of and a way of engaging with people that faithfully reflects my passion for healing, wholeness, and hope. I can be contacted at liamac378@gmail.com.
Policies of Payment and Refund of Tuition:
The cost is $35 per month for access to the program. Payments are made through monthly reoccurring automatic debits. If you do not pay within 21 days and have not made arrangements with us around how payment will be made, your access to materials will be discontinued and you will be taken out of the program. Please know you can discuss your needs with us anytime by emailing us at info@holisticcoachtraininginstitute.com. Full refunds are issued if a notice to cancel is received within 3 days after initial payment is made. There are no refunds after 3 days from the time of initial payment. In order to qualify for a refund within the 3 day period, an email must be sent to support@sophistechatedmarketingdev.com requesting cancellation. After the 3 day period, there are no refunds regardless of attendance. I am happy to work with you on ensuring you receive the value of your investment. And if you are not getting what you need from the program (for any reason), give us the courtesy of a conversation so we can work through it together. If you are needing different support, let's discuss your needs and course-correct, if needed. A student can cancel the program at any time with 30 days notice. There are no refunds services already rendered regardless of attendance.